Company Profile
Our Background: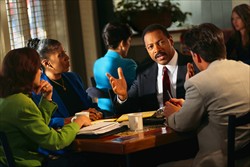 OTERO & ASSOCIATES, PLLC is a full service accounting and consulting firm. We cater to a wide variety of clients ranging from individuals to medium-sized corporations. Our senior accountants and consultants specialize in government and commercial contractor advisory services, business consulting, retirement planning, investments, and estates & trusts.
Of course, in addition to our specialty areas, we also provide expert tax and accounting services, including tax planning and tax return preparation, auditing, and bookkeeping.

OTERO & ASSOCIATES, PLLC is committed to providing a complete range of professional tax, accounting, business consulting, and contract cost advisory services, at affordable fees. We pledge to create an environment that will cause every one of our clients to view us as a TRUSTED business advisor.
Our Mission:
Otero & Associates, PLLC was established with a single principle in mind: to provide the highest level of personalized client service possible. Simply put, we care about each and every one of our clients. You will always be served by a competent professional who is committed to exceeding your expectations, and you will never have to worry that a new staff accountant has the proper experience to give you the right advice.

All of our professionals are senior levels advisors. If you would like to develop a relationship with an accountant that will know your name, get to know ours. Our firm has been in business for sixteen years. We have grown steadily and rapidly, and our full complement of professionals are able to service a continuously growing clientele.

Today, our many active practices encompass the complete spectrum of financial and cost accounting services that includes, but are not limited to, quality tax advice, timely and accurate tax preparation, business consultations including choice of new entity considerations, and government/commercial contractor matters making us the right full-service firm for you.